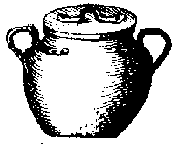 Dairy and Eggs
Fritters, bent like horseshoes
Grate good [hard, trsl.] cheese and take half the amount of flour, break eggs into it enough for the dough to be soft enough to be rolled out, and add spices. Roll it out on a board into a sausage-shape. Bend that and fry it in lard.

Inntalkochbuch, Bavaria, 15th/16th c.

Translation copyright 2005 by Volker Bach

CHEESE FRITTERS

Ingredients:
3 oz. (85 g.) shredded parmesan cheese
1-1/2 oz. (43 g.) all-purpose flour
1 large egg
lard or vegetable oil


Directions:
Combine all ingredients, and roll the mixture into 5 little sausages or horseshoes. Fry until golden brown. Serve hot. (To keep this a vegetarian dish, I used oil instead of lard, and fried the fritters in a deep-fryer for 2 minutes at 356 F (180 C).