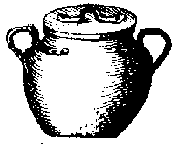 Fish Recipes
Cazuela de Salmon
You must take the clean and well-washed salmon; and put it in a casserole with your spices which are: galingale, and a little pepper and ginger and saffron; and all of this well ground, and cast upon the fish with salt, and a little verjuice or orange juice, and let it go to the fire of embers; and then take blanched almonds and raisins and pine nuts and all herbs; That is, moraduj, which is called marjoram, and parsley, and mint; and when the casserole is nearly half-cooked cast all this inside.
Ruperto de Nola, Libro de Guisados, Spain, 1529

Salmon Casserole

Ingredients:
1 pound salmon fillet
1/4 teaspoon ground galingale
1/8 teaspoon ground ginger
1/8 teaspoon peppercorns and a pinch of saffron, ground together
salt to taste
juice of 1 orange (approx. 1/2 cup)
1 Tablespoon pine nuts
1 Tablespoon blanched slivered almonds
2 Tablespoons raisins
1/2 teaspoon dried marjoram
2 Tablespoons fresh parsley, chopped
1 Tablespoon fresh mint, chopped


Directions:
Preheat the oven to 350 F. Place the salmon in a deep casserole dish. Sprinkle with the ground spices and the salt. Add orange juice to the casserole. Bake, uncovered, for 10 minutes. Add the chopped herbs, nuts and raisins, and baste with the orange juice. Bake 10 more minutes, or until the salmon flakes easily at its thickest part.