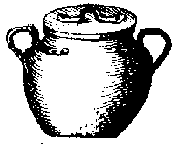 Vegetables and Grains
Para cozer las habas grandes secas
Clean the fava beans, and put them to soak, as we have said in the previous chapter, wash them with many changes of water, and cook them with oil, water, and salt, and when they are cooked, more or less, put in fried onions, chopped herbs, pepper, and saffron.
Diego Granado, Libro del Arte de Cozina, Spain, 1599

To Boil the Large Dried Fava Beans

Ingredients:
1 cup split fava beans
1/8 tsp. ground black pepper
1/2 medium onion, chopped
1/4 tsp. oregano
1 small pinch saffron
1/2 tsp. salt, or to taste


Directions:
Soak the fava beans for 8 hours. Drain and rinse. Blanch in boiling water for 10 minutes. Drain. Place in a pot with water to cover, and add the onion and all the seasonings except for salt. Simmer until cooked, about 45 minutes to 1 hour.

Calabazas a la Morisca
Scrape the gourds very well until they are very clean and white, and then make wide slices and cut them like round fingers; and take onion and cut it in the same way as the gourd, and to each gourd put two onions; and when they are cut, cast them in good mutton broth that is boiling well; and when they are cooked, cast upon them goat milk or sheep milk, and if there is none, cast in almond milk; and cook the milk well with the gourds; and when the milk is cooked, turn them well with your haravillo and cast upon them good grated cheese and fine spices; and also cumin, and caraway, and a pair of eggs for each dish; and turn it all together and prepare dishes; and cast sugar and cinnamon upon them.
Ruperto de Nola, Libro de Guisados, Spain, 1529

Moorish Gourds

Ingredients:
1 med. gourd (about 1-1/2 lbs), peeled & cubed
1/2 tsp ground cumin
1 cup chopped onion
1/2 tsp ground coriander seed
2 TBS olive oil
1/4 tsp black pepper
3/4 cup whole milk
1/4 tsp ground caraway seed or 1/2 tsp. whole
1/4 cup heavy cream
2 eggs, beaten (optional) 1/2 cup grated Romano cheese


Directions:
Bring a pot of salted water to boil. Add olive oil, onion, and gourd. Simmer until tender, about 20 minutes. Drain the cooked vegetables. When cool enough to handle, squeeze them in a clean tea-towel to remove as much excess water as possible. Place the milk, cream, gourd, onion, and spices in a clean pot. Bring to a simmer over medium-low heat. Do not boil. Use a large spoon or a potato-masher to break up the pieces of gourd. Cook long enough for the flavors of the spices to blend, and the mixture to thicken. Just before serving, reduce heat to low. Stir in the eggs, if using. Remove the pot from the heat, add the grated cheese to the mixture, and stir well. Taste for seasonings, and add salt if necessary.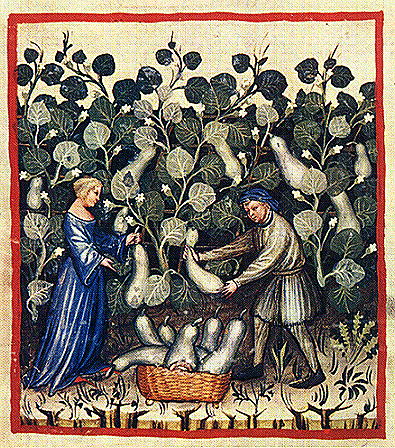 Illustration of gourds from the Tacuinum Sanitatis, a medieval medical manual. (My thanks to James Matterer for providing this image.)
ARROZ EN CAZUELA AL HORNO
Clean the rice well of stones and filth, and wash it with two or three [changes of] cold water and then with hot water. And after it is well-washed, set it to dry on a wooden chopping block in the sun or by the heat of the fire. And when it is dry, clean it again in such a manner that it is very clean; then take a very clean casserole and cast in good meat broth which is fatty, and set it to boil on the fire; and when it begins to boil, put in two or three threads of saffron so that the broth becomes quite yellow. And when the broth is quite yellow, cast in the rice bit by bit, stirring it with a stick or with a large spoon; and when the rice is in the casserole cast in whatever quantity of broth that seems necessary to you to so that it cooks no more. and taste it to see that it is well-salted and fatty; and put it to cook in the oven; and a little before it finishes cooking, remove it from the oven and cast some whole fresh egg yolks over the rice. And then return the casserole to the oven to finish cooking; and it is cooked when you see that the rice has made a good crust on top; and then prepare dishes, and in each one put one or two of the egg yolks which were upon the rice; and if by chance the oven was not prepared, put the casserole on a coal fire and put an iron lid full of coals on it; and in this manner it will come out of there as if it had been cooked in the oven, and perhaps better because it remains nearer for sampling, and this is good rice.
Ruperto de Nola, Libro de Guisados, Spain, 1529

Rice Casserole in the Oven

Ingredients:
2 cups uncooked rice
4 cups broth OR 4 cups water + 1/4 cup olive oil
a pinch of saffron
salt to taste
4 egg yolks (unbroken)

Preheat the oven to 375 F. Grind the saffron and salt together with a mortar and pestle, or in a shallow bowl with the back of a spoon. Heat a small quantity of the broth or water, and add the saffron and salt. Allow to steep at least 15 minutes.

Place the rice in a shallow ovenproof dish. Heat the rest of the broth or water to boiling. Stir in the saffron mixture. Pour the hot liquid over the rice. Cover the dish tightly, and bake in the oven for about 30-35 minutes.

Remove the dish from the oven and uncover. Gently place the egg yolks on top of the rice. Be sure that the yolks are not touching each other, and that they do not break. Cover the dish and return the rice to the oven. After 10 minutes, check the dish. The egg yolks should be firm but not overcooked. Remove the dish and let stand, covered, for another 5 minutes.

Notes:
This method of cooking rice is very suitable for large quantities. I've used disposable baking pans, covered with heavy-duty aluminum foil. When cooking in quantity, it's easiest to prepare the egg yolks separately. Take another pan and cover the bottom with a layer of cooked rice. Use this pan to bake as many egg yolks as you will need to garnish your rice.
Chapter VIII -- To Conserve Horseradish
Take the horseradish and pare it and make it clean with water. And then cut it very small, and then set it on the fire with water and put there a good fistful of salt, and boil it until it is quite soft. And then remove it and place it in cold water for 9 days, changing the water every day. And when it is well de-salted, you will make your honey, and well-skimmed as has been said, cast it in the honey or syrup and boil it hard until a syrup is made which forms threads. And for one pound of horseradish, one pound of honey is needed. Libre de totes maneres de confits (Catalan, 14th c.)

Candied Horseradish,/b> I took a horseradish root, peeled it, and cut it into 2/3 inch cubes. I boiled it in salted water until it was fork-tender. I drained and rinsed the horseradish cubes, and put them in a large jar of cold water in the refrigerator. For 9 days I changed the water daily (though I forgot once or twice). I drained the horseradish, and placed it in a saucepan with an equal weight of honey. I simmered this mixture until the honey reached the thread stage on a candy thermometer (230-235° F).

Notes: The boiling and soaking process took almost all of the "bite" out of the horseradish. I had expected something similar in intensity to candied ginger, but the result was much milder.